12 Bridge Patch Logo
Hard cider sells readily to women so this client wanted a roughened industrial look that would feel particularly approachable to men.
Primary Logo
A gently arching emblem logo subtly captures the arch of a simple bridge while the black and white color combo and masculine sans serif type give the no-nonsense manufacturing aesthetic the client was looking for.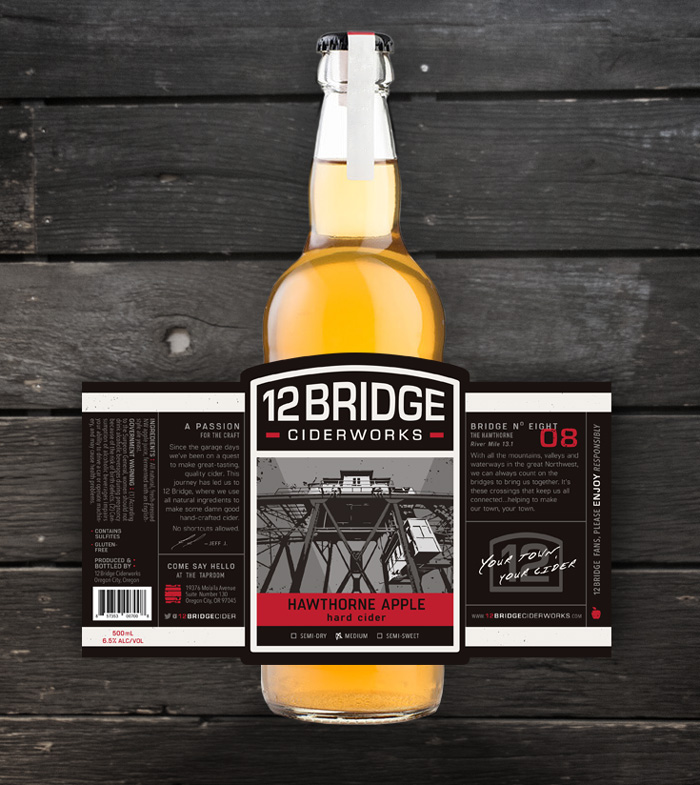 Hard Cider Labels
Meet Hawthorne Apple from 12 Bridge Ciderworks' first batch of hard cider.
Steel Black Cherry Label
Morrison Double-Hop Label
Broadway Cran-Pom Label
Hawthorne Apple Label
Friday Night Live Music Table Tents
There are always myriad supporting printed graphics that help the client get the word out—all faithful to the brand style, of course.
Newly Printed Labels and BOGO Tokens
When the labels were printed the client received a mountain of Buy One, Get One tokens as a thank you gift.